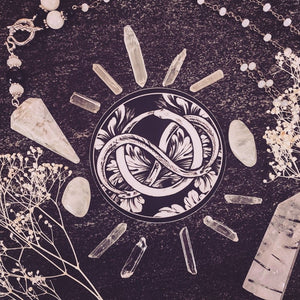 Ouroboros, the Tail Eater Circle Sticker
Ouroboros, the Tail Eater Circle Sticker Sticker
~*~*~*~*~*~*~*~*~*~*~*~*~*~*~
The ouroboros (or "Tail-eater") is an ancient symbol of immortality, the cycles of creation and destruction, sustainability, wholeness, completion, infinity, and the connectedness of all things. It appears in alchemic and Hermetic traditions, and is illustrated by a snake (or sometimes dragon) consuming its own tail in the form of a circle or figure 8. This sticker depicts both the circle, and the figure 8, as the white snake in the ceneter consumes her own tail, while the two darker ones consume eachothers.
~*~*~*~*~*~*~*~*~*~*~*~*~*~*~
This listing is for one (1) Circle, high quality, vinyl, weatherproof, fade-resistant, sticker bearing Three snakes acting as One in ouroboros .
Measurements: 3" x 3"
(c) Alexandria Huntington 2018 - 2021. All Rights Reserved. 
---
We Also Recommend