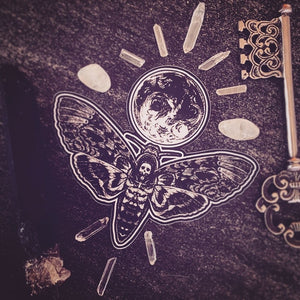 Death's-head Hawkmoth Moon Sticker
Death's-head Hawkmoth Moon Sticker
~*~*~*~*~*~*~*~*~*~*~*~*
There are only three species variations of Death's-head Hawkmoths in the world, and all three of their Latin names, Acherontia Lachesis, Acherontia Atropos, and Acherontia Styx are references to Greek mythology. Styx references the infamous river that flowed to and from the mortal plane and underworld, while Atropos and Lachesis refer to two of the three "fates",  a triple set of sister goddesses collectively known as The Moirai, who spun, measured, and severed, the threads of life, destiny, and death. 
Moths are creatures of the night, who live and dwell in the darkness. Yet, they nevertheless are drawn towards the light. Therefore, moths symbolize intuition, transformation, psychic awakenings, determination, and faith. Moreover, the "month" is born when it's larva-self dies. The past cannot live alongside the present, and the future cannot happen until the present passes. The moth is an instinctual master of this truth. 
This listing is for one (1) die-cut, high quality, vinyl, weatherproof, fade-resistant, sticker bearing A Death's-head Hawkmoth under a full moon.
Measurements: 5.65" x 5"
---
We Also Recommend