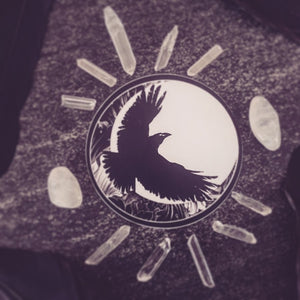 The Raven in Flight Circle Sticker
The Raven in Flight Circle Sticker
~*~*~*~*~*~*~*~*~*~*~*~*~*~*~
Crows and Ravens have always possessed an aura of mystery, elegance, and hidden knowledge, which has captivated and sometimes terrified the humans around them. Although Crows can be symbols of misfortune and death, they also represent intelligence, destiny, magick, flexibility, resourcefulness, and psychic abilities.
In Nordic tradition, Crows and Ravens are associated with the God Odin, leader of the Nordic pantheon, and a god of Magick, prophecy, and Wisdom. Odin possessed two ravens named Huginn and Muninn (translating to thought, and memory, respectively). Odin himself had sacrificed one of his physical eyes to gain the wisdom of divination. His ravens, therefore, acted as his eyes and ears across the realms of man, monsters, and gods alike. In this way, ravens and crows again act as the subconscious mind, in that they are capable of perceiving information and relaying insights to us that is far beyond the scope of our physical eyes.
~*~*~*~*~*~*~*~*~*~*~*~*~*~*~
This listing is for one (1) Circle, high quality, vinyl, weatherproof, fade-resistant, sticker bearing A soaring raven over a full moon.
Measurements: 3" x 3"
(c) Alexandria Huntington 2020 - 2021. All Rights Reserved. 
---
We Also Recommend