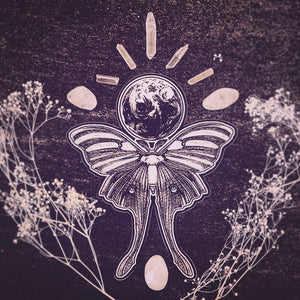 Luna Moth Moon Sticker
Moon Magic: Luna Moth Moon Sticker
~*~*~*~*~*~*~*~*~*~*~*~*
The Luna moth is a symbol of transformation. Because of its association with the moon (which represents our emotions and subconscious mind) the Luna moth can, therefore, be seen as the changing and transforming of our emotions and subconscious selves. Just as The Moon pushes and pulls the tide, so too does The Luna moth represent the constant transformation of our psyches from peace to panic and back again. The Luna moths dwell entirely in the blackness of night, and so instinctually knows how to navigate through darkness and obscurity, symbolizing intuition and physic awareness.
~*~*~*~*~*~*~*~*~*~*~*~*
This listing is for one (1) die-cut, high quality, vinyl, weatherproof, fade-resistant, sticker bearing Luna Mot under a full moon.
Measurements: 4.94" x 6"
(c) Alexandria Huntington 2018 - 2021. All Rights Reserved. 
---
We Also Recommend