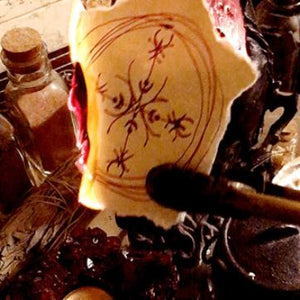 Custom Sigil - **CUSTOM ORDER ONLY**
A sigil is a symbol of power that one makes to aid them (or their clients) in manifesting their desires into reality. There are many different ways to make and use Sigils. So what I'm about to tell you is but one path of many. Still, as far as The Nameless One is concerned, a Sigil is a symbol made with a specific meaning & energy drawn from a positive affirmation. By copying the sigil from the card, while focusing on that affirmation, one can trap and then harness its energy to help them manifest a desire that resonates with the sigil's meaning.  
After copying the symbol onto a separate piece of paper, one can then "release" its power into the universe by "charging" and "activating" it. This will help turn the tides of fate in your favor. There are a lot of different ways to do this, but my preference is to burn the paper (while exercising proper fire safety procedures and while in a safe & calm environment) and focus on my desire as I watch the flames consume the symbol. Some prefer to charge & activate their sigils by staring at the symbol and visualizing their energy pouring into it, like pouring water into a vessel. One is encouraged to experiment and find something that works well for them.  
I will work with you to create a sigil for your specific affirmation and hand-draw it on watercolor paper, suitable for framing. 
**NOTE: Currently, I am not accepting any more orders for custom sigils until I have finished with those for my Kickstarter backers. Please email xiahunt@gmail.com if you would like to be added to a waitlist. **
---
We Also Recommend